Petersburg is one of the oldest cities in Virginia, dating back to 1750. The City of Petersburg has designated seven (7) local historic districts encompassing over 6,500 acres of land and including over 700 buildings.
OLD TOWNE HISTORIC DISTRICT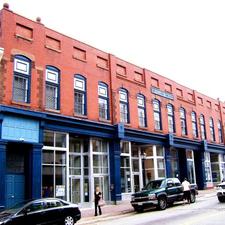 The Old Towne Historic District encompasses three distinct areas. The original town – laid out as half acre lots along the Appomattox River – was originally centered around what was called "River", "Main", and "Old" Street throughout its life, until changed to "Grove Avenue" early in the 20th century. It contains the largest number of 18th century buildings of any neighborhood in the city. Many of Petersburg's famed craftsmen, including wheelwrights, cabinet makers, chair makers, and house painters, built their homes on this street. These early houses have survived in record numbers. The adjoining streets of Cross, Hurt, Canal and Plum contain a number of one-story frame workers' cottages.
In 1762, the town expanded up the hill to include a second development known as "New Town" or "High Street". Located on the high ground overlooking "Old Town" (Grove Avenue) and the Appomattox River basin, the street was originally laid out in 28 one-acre lots. Here many of Petersburg's most notable houses were built during the 18th and 19th centuries. The city's oldest structure known as the Young Ladies Boarding House was under construction in 1763, merely a year following the inception of New Town. Over the next 150 years, the other remaining lots were developed with Georgian and Palladian dwellings, federal townhouses, Greek Revival mansions, and an array of Italianate and Second Empire houses. A walk along this street is to step into a textbook of colonial, antebellum and Victorian architecture.
On the eastern edge of the district is the commercial development constructed largely following a disastrous fire of 1815. It features many three-story brick row buildings including the Appomattox Iron Works complex and the former Maclin-McGill Zimmer Tobacco Factory, now elderly and handicapped housing. Today, this is the heart of Petersburg's commercial district. The broad range of building types in this district – from the modest 18th century houses of Grove Avenue, to the mansions of High Street and the federal townhouses and stores of downtown – makes this area one of the most varied and exciting historic neighborhoods in the Commonwealth of Virginia.