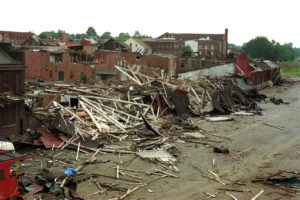 On August 6, 1993, the most powerful tornado in Virginia history struck Petersburg, Colonial Heights, Prince George County, and Hopewell.  It caused 20 minutes of sheer horror and devastation along its 12-mile route and narrow width of approximately 200 to 300 yards.  The National Weather Service issued a tornado watch at 12:45 pm for southeastern Virginia and northeastern North Carolina.  Forty-five minutes later at 1:30 pm, Petersburg was hit by an F4 tornado moving at 30 miles per hour with an estimated top wind speed of 210 miles per hour.  The first tornado warning was not issued until 1:35 pm, after the Petersburg tornado had been sighted.
The hardest hit areas in Petersburg were Old Towne, followed by Pocahontas Island.  Old Towne was "a trendy area which was in the process of making a strong economic statement" in the summer of 1993, and in the space of five minutes the tornado obliterated much of that progress.  It damaged more than half of Old Towne's buildings, and destroyed the eastern freight wing of the South Side Railroad Depot.  People ran into buildings to avoid the falling tin and bricks that already were covering the streets.  Newsman Wayne Covil of TV station CBS-6 newsman reported that car burglar alarms were going off and "the destruction was just overwhelming."  A total of 58 buildings in Old Towne were damaged or destroyed, but thankfully there were no fatalities.
The tornado then moved to Pocahontas Island and destroyed or heavily damaged 47 of the 57 buildings on the island.  A 200-year old church was a total loss, but an open Bible on a podium within the church was untouched.  The total damage in Petersburg was about $15 million, with 40 people injured and about 100 buildings severely damaged or destroyed.
From Pocahontas Island the storm's fury struck Colonial Heights to the northeast at about 1:35 pm.  Crossing the Appomattox River, the now tornado (now slightly downgraded to F3 with wind speeds up to 175 miles per hour) slammed into the Southpark Mall area.  The Wal-Mart, where the Sams Club is now, took a direct hit from the twister.  The tornado tore open part of the roof at Wal-Mart and knocked down a wall.  Three women were killed in the store and 198 were injured.  At 2:30 pm, 100 soldiers from Fort Lee were sent to the Wal-Mart to search for bodies.  Personnel from Fort Lee's Kenner Hospital set up a triage station at the store before state and federal personnel arrived.  By 5:30 pm, rescue dogs had found two bodies inside the Wal-Mart.  Fifteen soldiers received medals for their participation in the tornado response.
Around 500 cars from the parking lot adjacent to Wal-Mart were removed with blown-out windows, and many of them were a total loss.  Twenty-three of the 185 injured who were taken to area hospitals from Petersburg and Colonial Heights were admitted.  The cellular phone system couldn't keep up with five times the normal call volume, which precluded the medical personnel on site from distributing injured to the local hospitals in approximately equal numbers.  In the 1850s and again in May 1990, tornados hit the Wal-Mart area in Colonial Heights.  But the 1993 tornado greatly eclipsed these tornados.  Colonial Heights suffered approximately $29.5 million in damages in addition to the fatalities and injuries.
When the tornado crossed into Prince George County, a 28-year old man was killed on Puddledock Road at Tarmac Virginia.  At 1:45 pm, Hopewell felt the destructive fury of the tornado with eight residents suffering injuries and $2.2 million worth of property damaged.
Let's put this powerful and deadly tornado in historical perspective.  Twenty-one jurisdictions were affected that day.  Before 1993, Virginia averaged six tornados per year.  In 1975, the state record for tornados was set with a total of 22 twisters.  The single-day record in the state was 10 on October 13, 1983.  On August 6, 1993, 18 tornados touched down which surpassed the 1983 record.  In fact, Virginia's final tally for 1993 was 31 tornados.  The deadliest day for tornados in the state was May 2, 1929, when 21 were killed and 70 injured.  If not the deadliest, the tornado that hit Petersburg, Colonial Heights, Prince George County, and Hopewell on August 6, 1993, was the worst tornado in terms of the number of Virginians affected.  For over a 20-minute period along a 12-mile course, this storm killed four, injured 259, and caused approximately $50 million in damages.  It was the most costly tornado in Virginia history.
In recent history, Petersburg has been hit by two tornados.  An F2 tornado struck on June 21, 1970 and an F3 hit the city on May 8, 1984.  Both caused considerable damage but there were no deaths or injuries.  Speaking of Petersburg in 1993, Darlene Brown said, "Petersburg was just coming back beautifully.  Old Towne was getting a critical mass for tourism and businesses."  Then Mayor Rosalyn Dance stated, "We had been having all these openings and were really boosting our economy.  There was a real renaissance going on before the tornado.  The tornado put a stop to that.  Then it was all gone… in seconds."  In 1993 this area was not covered by Doppler radar.  Now that the National Weather Service has a state-of-the-art facility and radar in Wakefield, meteorologists can detect and issue warnings earlier.  Can history repeat itself with a future tornado striking Petersburg and Colonial Heights?  On April 28, 2008, an F1 tornado hit Colonial Heights that piled cars on top of cars in the parking lot near Best Buy, which is basically where the 1993 tornado hit Wal-Mart.  Suffice it to say, when you hear the Tornado Watches and Warnings in the future, heed them!