CENTER HILL HISTORIC DISTRICT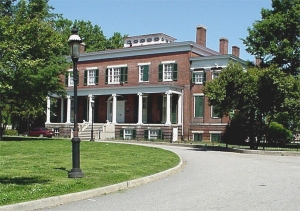 In 1818, Robert Bolling started construction on Petersburg's most stately home – Centre Hill. Sitting on a five-acre tract in the heart of the city and overlooking the Appomattox River, it was initially built as a lavish federal townhouse. Bolling's son, Robert Buckner Bolling, enlarged and improved the house to its Greek Revival style in 1850. At the turn of the 20th century, Charles Hall Davis acquired the house and began a major restoration of the house and grounds. The house was the site of three United States presidential visits. John Tyler called on the Bollings here, Abraham Lincoln visited during the period of strife between the states, and William Howard Taft was entertained at the house and on the grounds in 1909. Following Taft's visit, Davis fell on hard times and was forced to abandon some of his renovation plans. The grounds were divided into lots for speculative housing. The area features a unique collection of bungalows, colonial revival houses and foursquares that are not usually found in Petersburg. Most of the houses are one to two story frame structures.
Today, Centre Hill Mansion, a city museum site, stands at the center of this wonderful 1910's neighborhood with the remnants of a brick wall and wrought-iron fencing on its perimeter. The neighborhood includes portions of Henry, North Adams, North Jefferson, Franklin, and East Washington Streets, Centre Hill Court and Centre Hill Avenue.
SOUTH MARKET STREET HISTORIC DISTRICT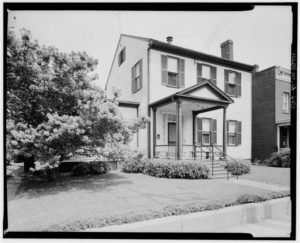 The South Market Street Historic District is comprised of portions of South Market, Wythe, Brown and Halifax Streets. Similar to South Sycamore Street in the Poplar Lawn Historic District, South Market Street was a fashionable address to have in Petersburg between 1840 and 1918. As such, this district has a significant collection of houses built by many of Petersburg's most prominent citizens in the mid-to-late 19th century. The dwellings and church are primarily two stories and were built in the Greek Revival, Gothic Revival and Italianate style. Many of these grand houses retain their original outbuildings – carriage houses, kitchens and servant/slave dwellings.
The Wallace-Seward House was the site of an important moment in Civil War history. It served as the site of the last meeting between President Lincoln and General U.S. Grant, the day after Petersburg's fall and just before the surrender of the Confederacy.