POPLAR LAWN HISTORIC DISTRICT
In 1784, Robert Bolling's land which lay between the towns of Petersburg and Blandford was subdivided into lots and became the neighborhood of choice for many of the city's most prosperous merchants. The area was soon extended to the south, and a large plot was given over to be a park.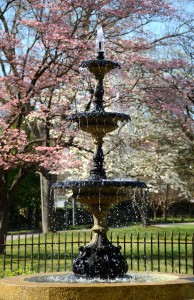 This park, a two-block green located between South Sycamore and South Jefferson Streets, follows a baroque plan consisting of a circle with irregularly spaced paths radiating from it. Early in the 19th century, a dining hall, banquet and bath houses, and ballroom all were located here. Volunteers in both the War of 1812 and the Mexican – American War drilled and camped here. The city purchased the park in 1846 for $15,000, improving it with graveled walks, fountains and new plants. In 1881, its name was changed to Central Park.
Some of the town's grandest Greek Revival, Italianate, Queen Anne and Colonial Revival mansions were built surrounding the park. This residential neighborhood is comprised of two to two and a half story, middle class to upper middle class mid to late 19th century structures. The lots along Sycamore Street are landscaped with twenty-five foot setbacks and front yards enclosed in cast-iron fences. The adjoining streets are lined with exquisite rowhouses and detached dwellings, some constructed as early as the 1820's. The area was built up so extensively during the second half of the 19th century, that it became one of the premiere Victorian communities of post – bellum Virginia.
FOLLY CASTLE HISTORIC DISTRICT
The Folly Castle Historic District is centered around the 18th century residence Folly Castle. The main thoroughfares of this neighborhood are West Washington and Hinton Streets with portions of Lafayette, Guarantee, Hazel, Davis and Perry Streets.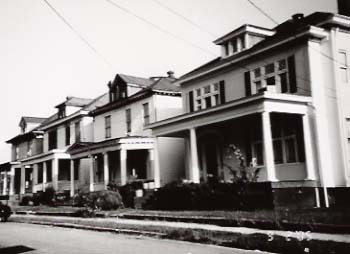 Folly Castle was built in 1763 by Peter Jones, V, a wealthy unmarried resident. Because of the enormous size of the house for a single person, this structure became known as a "folly", thus Folly castle, from which the neighborhood takes its name. The neighborhood developed between 1763 and 1928, and features a variety of residential styles including Georgian, Federal, Greek Revival, Italianate and Queen Anne. The district is primarily residential. Formerly it included numerous tobacco-related structures. Folly Castle's industrial component had an important effect on the area's development and settlement patterns, especially during the pre-Civil War years. Tobacco factories were built within walking distance of the owner's prominent high-style homes creating a residential enclave surrounded by handsome brick factories. Later, the land between the two was developed for middle class and factory worker's housing. Most of these factories do not survive.