COURTHOUSE HISTORIC DISTRICT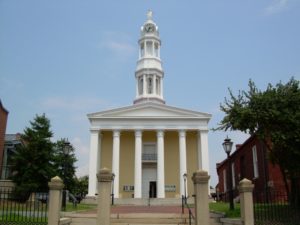 Petersburg's commercial and governmental centers are preserved in this district. As a result of Petersburg's devastating fire in 1815, the city's contractors and brickmasons began building in brick and stucco. The district contains many of Petersburg's noteworthy structures, including the 1838 Petersburg Courthouse, designed by New York architect, Calvin Pollard; the 1843 Tabb Street Presbyterian Church, built by Dabney Cosby and designed by Thomas U. Walter; Ammi Young's 1856 Customs House; and the 1855 St. Paul's Episcopal Church. Many other significant buildings were constructed between 1815 and the mid 20th century. Some of the architectural styles that are evident are Federal, Greek Revival, Italianate, Renaissance Revival, Neo-Classical, Classical Revival and Chicago School.
BATTERSEA/WEST HIGH STREET HISTORIC DISTRICT
The working class neighborhood of Prides Field and Battersea encompasses one community. There is a locally defined historic district along West High Street to Battersea Mansion. The 1820's to 1840's appear to have been a boom period for this area with the completion of the canal and following the 1815 fire. Most of the surviving houses are simple late 19th century, two-story, detached frame dwellings adorned with Italianate brackets and turned posts on the porches. These houses are vernacular in character, and through use of mass produced millwork, display the architectural fashion of the time and portray middle class values. The houses are set close together on shallow lots giving the neighborhood an urban quality. Several 18th century structures appear to be extant, including an outbuilding of Pride's Tavern. The Upper Appomattox River Canal and turning basin are situated on the eastern edge of this district.
HISTORIC ZONING ORDINANCE
In 1973, the City of Petersburg adopted a Historic Zoning Ordinance to protect the architectural and cultural heritage of the city. The ordinance ensures that Petersburg's heritage and unique identity will continue to be preserved for the benefit of future generations.
The Historic Zoning Ordinance requires that a Certificate of Appropriateness be issued before the erection, construction, alteration or restoration of the exterior of any building or other man made structure, including, but not limited to signs and fences, located in any of the historic districts.
The Historic Zoning Ordinance is administered by the Architectural Review Board, which is composed of seven persons with a knowledge of and interest in the preservation of the historic character of Petersburg. The members are appointed by City Council for three (3) year terms. The Architectural Review Board meets twice a month.
The Architectural Review Board has adopted both the Secretary of the Interior's Standards for Rehabilitation and Guidelines for Rehabilitating Historic Buildings and local Design Review Guidelines, developed specifically for Petersburg's historic buildings and neighborhoods.
Contact the Petersburg Planning Department at 804-733-2308, for copies of the guidelines, applications or any questions you may have about the Architectural Review Board.