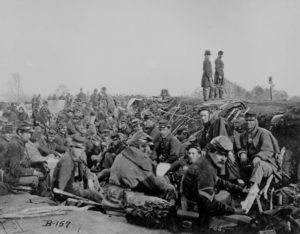 Petersburg's transportation nexus made it an attractive target for General Ulysses S. Grant in June 1864.  The Union general-in-chief had run out of maneuver room north of the James River in his twin quest to cripple General Robert E. Lee's Army of Northern Virginia and capture Richmond.  A swift and secret move across the "mighty James" against Petersburg promised to isolate the Confederate capital and place Lee at a severe disadvantage.
The city was also a major hospital hub for the Confederates during the Civil War. By the end of the first year of war, Petersburg had seven hospitals, accommodating wounded and sick soldiers from much of the southern war theater.
The Petersburg Campaign encompassed 292 days of combat, maneuver, and trench warfare between June 15, 1864, and April 2, 1865. The Battles and Siege of Petersburg involved more than 180,000 soldiers and produced some 60,000 casualties.
To learn more about Petersburg in the Civil War Click Here or Here