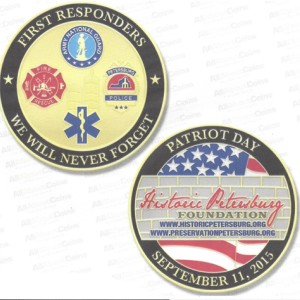 Patriot Day Commemorative Coin
On Friday, September 11, 2015, Historic Petersburg Foundation, Inc. and Co-Sponsor, the City of Petersburg, will honor local first responders on Patriot Day with a ceremony at 6:30 p.m. in PAAL's Art Park at 7 East Old Street. A reception will follow at the Black Swan. We invite you to join us as we recognize the service of these community leaders.
A limited edition 1 3/4″ commemorative coin. HPF members may purchase coins in advance. You may pick up your coin at the Patriot Day event or we'll ship it to you.