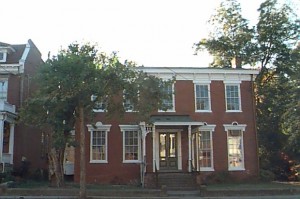 This structure was built in the early nineteenth century as a one and a half story frame house over a high brick cellar. A large two story pressed brick addition was built in the second half of the nineteenth century.  An Eastlake porch provides the entrance to the front of the house and on the south side, a porch above a nroom is decorated with a Chinese motif. In the twentieth century, additional rooms were added to the rear. Original woodwork, wood flooring and fireplaces remain. Restore the house to its former elegance in the twenty-first century!
The house is associated with two periods of local history. It is the forbearer of Southside Regional Medical Center, having been known as the "Petersburg Home for the Sick", the first civilian hospital in the city.  Later it became the home and school of Miss Ruth, who operated the Petersburg School of Childhood.  From this time period, the house is fondly remembered as the kindergarten.
To schedule a showing or for more information please contact Jeff Clark at 804-586-9694 or the HPF office at 804-732-2096.
$15,000        Square Feet: 2,847       Lot Size: 71.5 x 193.4     
Poplar Lawn Historic District
---